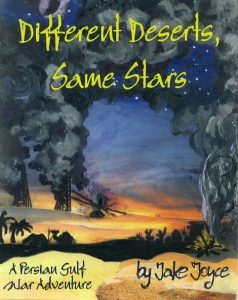 Different Deserts, Same Stars, by Jake Joyce, is a thrilling military adventure that tells the story of a Native American army reservist called up for active duty in the first Persian Gulf War during Operation Desert Storm. Under the backdrop of burning oil wells in war-torn Kuwait, when all modern technology fails, will his ancient survival skills allow him to evade Iraqi capture and escape back to coalition lines?
With the ongoing conflict in Iraq, Jake Joyce's book is of special interest as a compelling portrait of the first Gulf War, incorporating insight he gained during his time in the military.
Jerome (Jake) Joyce Ph.D. is a former Green Beret sergeant and an honorably retired commissioned officer from the U.S. Public Health Service with rank of commander. He currently resides on a ranch in Kansas with his wife Wendy and their Texas Longhorn cattle. This is his first novel.
Interested readers can visit www.jakejoycebooks.com to read a sample or buy the e-book.