by James Norris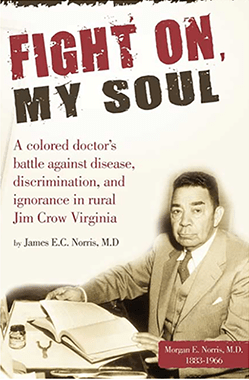 Fight On, My Soul is a biography of one of the first African-American doctors in the South, and it reveals his battles against discrimination, disease, and illiteracy. Set largely in rural Lancaster County, Virginia, Fight On, My Soul tells the story of Morgan E. Norris, one of Virginia's first black physicians, who believed in himself enough to overcome the daily struggles of his life and his time.
Told by his son, this meticulously researched biography is a moving story that captures Norris's struggle to provide better conditions for his family and beloved patients. James Norris says of his father: "When barriers were raised and obstacles thrown, his modus operandi would be first to try to wend his way around them, and failing that, to blast them down!"
Norris's life spanned the contentious period from post-Reconstruction to the relentless erosion of civil liberties for blacks, the encoding of segregation into law, and finally the collapse of Jim Crow. Norris died in 1966, just about the same time as Jim Crow, but when he died it was still illegal for a white to marry a Negro in Virginia, and the American Medical Association had yet to disavow local and state societies that discriminated against Negro physicians.
Norris could have chosen to go with the flow, to move north to less conflicted environs, or even pass for white. But for Norris, none of these choices fit. He chose first to become educated and then to return to his boyhood home in remote Virginia. In doing so, he fulfilled a pledge he had made to his dying father: to become a doctor and make sure no one in his little insular community would suffer as his father had. In telling his father's narrative, James Norris illuminates the delicate balance between defiance of systemic racial practices and working within a system that stubbornly resisted change.
PURCHASE ON BARNES & NOBLE
PURCHASE ON AMAZON