by Gary Clayman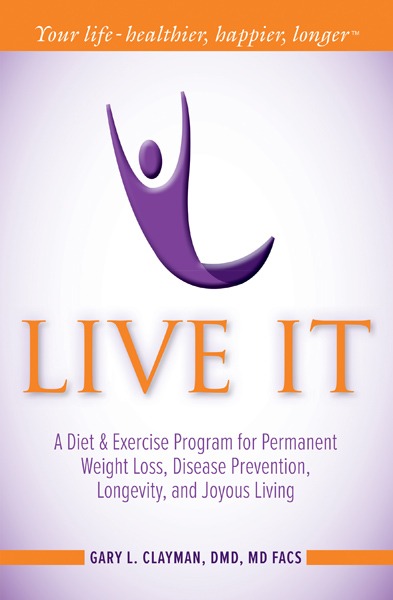 Live It is the only sustainable diet and exercise program you can learn and maintain at any age, for the rest of your life. Lose weight, eat well, enjoy life and improve your health without counting calories, eating special meals or supplements, or stepping on the scale!
About the Author: Gary L. Clayman, DMD, MD FACS is the Alando J. Ballantyne Distinguished Chair of Head and Neck Surgery at the University of Texas M.D. Anderson Cancer Center in Houston, Texas, where he also serves as the Medical Director for Health Care Providers Experience. M.D. Anderson has been named one of the top two cancer centers in the United States for the past fifteen years. Dr. Clayman graduated from Case Western Reserve School of Dentistry as well as Northeastern Ohio Universities College of Medicine.
Recognized nationally and internationally for his expertise in the surgical management of thyroid malignancies, he is actively involved in basic, translational, and clinical research of thyroid cancer and is the author of more than 200 scholarly publications in his field. Dr. Clayman lectures worldwide on the surgical management of thyroid malignancies and has consistently been named one of America's Top Doctors by Castle Connolly, as well as one of the Best Doctors in America by U.S. News & World Report for over thirteen consecutive years. He is the recipient of numerous honors and awards.
For the past three decades, Dr. Clayman has counseled numerous patients and healthseeking individuals regarding nutrition, supplementation and exercise. Live It is the culmination of Dr. Clayman's interest and passion in sharing a sustainable and concise method to set, reach and keep nutritional and exercise wellness goals so people of all ages can live their lives healthier, happier, longer. Dr. Clayman lives with his beautiful wife, Miky, and their three children, Beau, Ellie and Chase, in Houston, Texas.
This book is not available for online purchase.