by Victoria Peterson Laird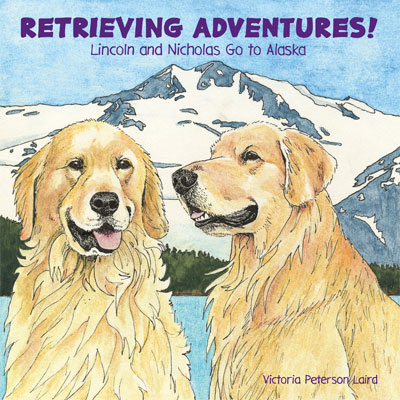 Retrieving Adventures! Lincoln and Nicholas Go to Alaska is the charming story of two Golden Retriever brothers who travel to Alaska and have many exciting adventures. They encounter lots of wildlife, including an angry grizzly bear, take a cruise, and watch the aurora borealis over Denali National Park.
The characters are based on two real Golden Retriever brothers who live with the author.
Nicholas is an incredibly happy free spirit with a wavy coat who usually has a toy in his mouth. Lincoln is a performance dog with a straight coat, always concerned about doing things properly and pleasing his humans. Both are TDI certified therapy dogs and visit hospitals and nursing homes weekly.
Together, they are a lovable pair who go on adventures all over the world. This is the first in a series of Retrieving Adventures!
This book is not available for online purchase.