by Lexie Thomas, WP owner, and Vera Snodgrass, WP writing intern
Today's website designs often prominently feature photos. If you're a product-based business, what you need to take photos of is often obvious. Figuring out how to capture abstract services (like creating an ad campaign) is a little trickier.
So, how do you start thinking about what to take pictures of as a service-based business? We found a few answers to this conundrum while redesigning our own website (coming soon!):
1. Think beyond the end result. For example, if the Write Place is designing a flyer, one solid choice is to take a picture of … wait for it … the flyer! And in many cases, we do showcase these types of photos. But we can also capture the process of creating that flyer.
We found close-ups of us working in our design software to be compelling. We also staged some parts of the process for a photoshoot. (For example, we took photos of our team reviewing designs.) Printouts of logo options spread across a table lend a behind-the-scenes feel that we think will draw people in.
This way of capturing the work you do applies to many service-based businesses, not just us as a marketing and design agency.
2. Lean into an interesting site background. If your site is light on photos, geometric, textured, or abstract designs can be just as interesting. For our new site background, we selected an image of colorful scribbles combined with a tilted grid. The scribbles are fun and show our creativity, while the grid imposes structure. It's the right combination of concepts to show who we are as a creative business! Fun and quirky, but with purpose and organization.

3. Plan ahead and look for ways to reuse images. Just before we started working on our new site, we were lucky to have a wonderful photographer, Melanie Mapes, in our Pella office to shoot photos for an article by our local chamber about the Write Place. Melanie generously agreed to share these photos with us to use on our new website. Our Lakeville location called on the services of the fabulous Kristin Hartung to take a similar set of photos for the article—again, keeping in mind that we'd also need images for our new website.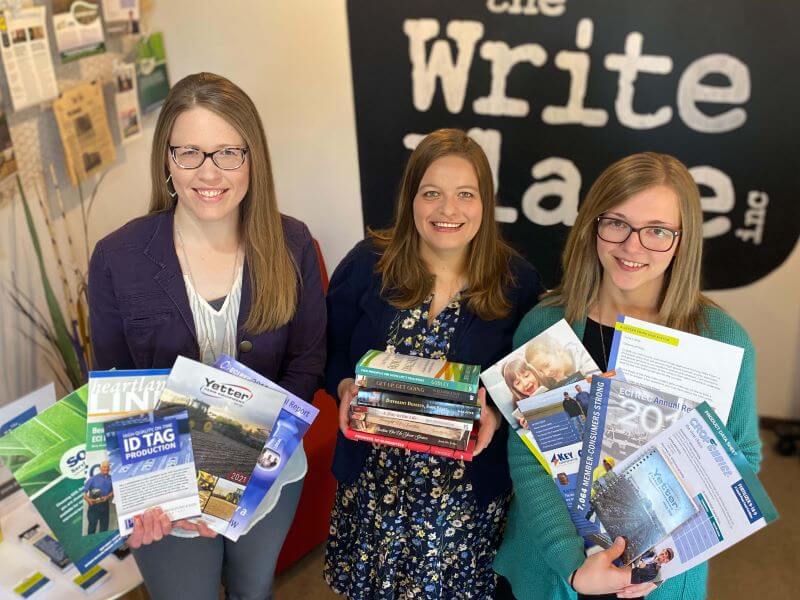 Whatever combination of ideas works for you, as long as you keep your brand personality front and center, the final result will be relatable and effective. Making things personal is always a good choice!
If you're having trouble brainstorming ideas or putting together graphics for your business website, the Write Place is full of creative thinkers who have your back! We'd be glad to help you through your own photoshoot or website redesign. Call us at 641-628-8398 or email hello@thewriteplace.biz.