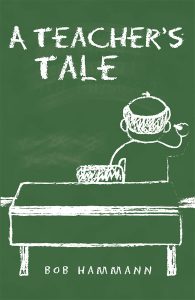 A Teacher's Tale, the latest memoir published by the Write Place, has arrived just in time for the new school year. Written by Bob Hammann, a retired public school administrator, this book chronicles Bob's life during his first teaching assignment in Lewiston, Idaho. Hammann's humorous stories from his early days as a junior high math teacher provide a fun and inspiring glimpse into the world of education in the 1970s.
"I was encouraged to write A Teacher's Tale by my family and a number of teachers that I worked with and who worked for me when I was a principal," said Hammann. "I wanted to share my experiences with teachers in the field and with students who attended public school in the 70s. I also wanted to communicate the continual changes that impacted education in the 70s and how it affected the teacher's ability to meet the learning needs of students."
Hammann hopes that his book will bring back pleasant memories about junior high school for his readers. He also hopes that A Teacher's Tale will inspire teachers to approach their work with a sense of humor and see beyond the challenges they face in the classroom. "Hopefully the book inspires those teachers who read it to see the value of their students," said Hammann, "and the impact they have on their lives in the day-in-and-day-out routines of teaching."
Hammann plans on writing more books that will follow his 25-year career as a principal and school administrator. He also plans to co-author a book with his son Rob, who designed the cover of A Teacher's Tale, which will highlight events of Rob's childhood.
Hammann currently resides in rural Iowa with his son, daughter-in-law and grandson. Since retiring from public school administration in 2004, he has spent his time preaching at area churches, teaching adjunct math classes at a local university, and golfing.
A Teacher's Tale is available for purchase online at Amazon and BarnesandNoble.com.