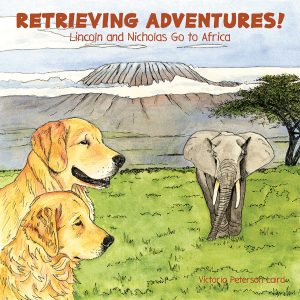 Last year, author and illustrator Victoria Peterson Laird introduced readers to golden retriever brothers Lincoln and Nicholas in Retrieving Adventures! Lincoln and Nicholas Go to Alaska. This holiday season, Peterson Laird brings the furry duo back to the page in a sequel that tackles a new adventure: an African safari.
Titled Retrieving Adventures! Lincoln and Nicholas Go to Africa, Laird's sequel is the latest children's book published by the Write Place. It begins with a phone call from Lincoln and Nicholas's Uncle Wilson, a wildlife tour guide who lives in Kenya. When Wilson asks the brothers if they'd like to join him on a safari, they quickly hop on a plane to Nairobi.
Lincoln and Nicholas's safari adventure is brought to life by full-page watercolor artwork done by Laird herself. The rolling grasses of the savanna and the forbidding slopes of Mount Kilimanjaro provide a majestic backdrop to Lincoln and Nicholas's humorous run-ins with the locals, including elephants, lions, rhinos, giraffes, and big-hearted Uncle Wilson himself.
"I wanted to choose another location with incredible wildlife, and Africa seemed like a great place to go," said Laird. "The landscape was quite different from the Alaska book, and a bit more challenging to recreate with subdued, hazy areas and not as much color."
As in the first book, all of the golden retriever characters are based on the author's own dogs. The real Lincoln and Nicholas are TDI-certified therapy dogs who visit hospitals and nursing homes weekly. Next year, Laird hopes to release the third book in the series, this time taking Lincoln and Nicholas to Australia.
"I want to include the Great Barrier Reef on at least two pages," said Laird. "You can expect kangaroos, koalas, snakes, a kookaburra, a wombat, a Tasmanian devil, a crocodile, and an emu perhaps."
Victoria Peterson Laird has a bachelor's degree in art from West Liberty State University, with a minor in journalism. She has sold portrait art since 1971 and taught art most of her life. Since January 1992, she has taught at William Penn University. She has previously written and illustrated children's books for her own children and illustrated children's books for author Dr. Nancy Frakes in the 1990s. A natural foods cookbook she wrote and illustrated, America's Favorites, Naturally, was published by Melius and Peterson Publishing in 1986. Earlier this year, she illustrated the holiday children's book The Horse That Ate Christmas by Debbie Brady Shellady.
Retrieving Adventures! Lincoln and Nicholas Go to Africa can be purchased at Amazon and BarnesandNoble.com. The proceeds from the sale of this book will be donated to the Golden Retriever Foundation's Zeke Cancer Research Fund. Laird will also host a book signing with Nicholas at the Book Vault in Oskaloosa on November 26 from 1:00 p.m. to 3:00 p.m.