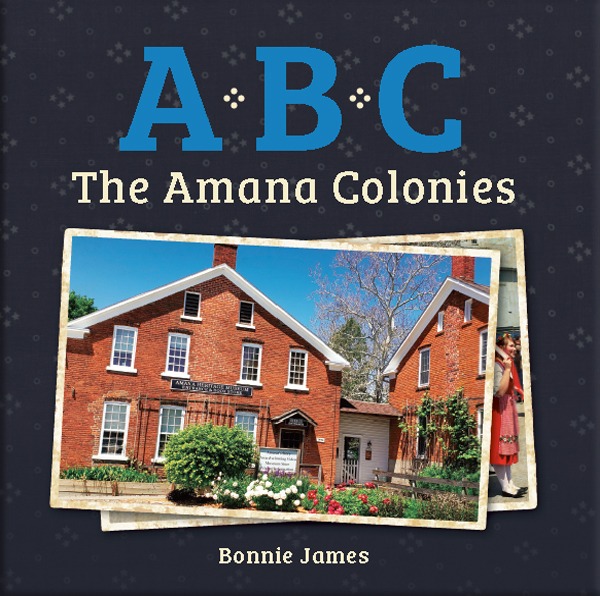 Each year, thousands of tourists travel to the Amana Colonies—the largest National Historic Landmark in Iowa. Settled by German immigrants, this cluster of villages is home to vibrant festivals, unique shops and well-known restaurants. Many of the visitors are kids, eager to enjoy their first taste of a bratwurst, run through the Tannenbaum Forest, or watch the Maipole Dancers twirl.
Now those young visitors can take home a piece of the Colonies to keep on their bookshelves. Elementary school teacher Bonnie James has published A, B, C: The Amana Colonies—a children's book that celebrates the heritage and people of Amana.
In James' book, each letter of the alphabet is assigned a place, person, object or event connected to the Colonies. For example, D is for dirndl, L is for Lily Lake, and Z is for Bill Zuber, a Middle Amana native and Major League Baseball pitcher. Along with fun facts, the pages of A, B, C: The Amana Colonies are brought to life by vibrant photographs, many taken by James herself.
"As a teacher, I have always enjoyed reading and learning from A, B, C books. In writing this book, my hope is for readers of all ages to see and learn about the Amana Colonies," said James. "Then, curious to know more, they'll come visit and experience this memorable place in person!"
 Bonnie James has taught elementary school for 34 years. She and her husband are also innkeepers at Zuber's Homestead Hotel in the Amana Colonies. A, B, C: The Amana Colonies was published with the Write Place. It is James' first book and is available for purchase at the Homestead Hotel and other local shops. It is also available online at Amazon and BarnesandNoble.com.