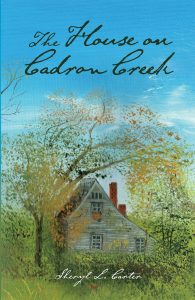 The House on Cadron Creek by Sheryl L. Carter is the latest novel published by the Write Place. Set in the hills, valleys, and mountains of the Ozarks during the Depression, Carter's novel tells the story Virgie and Dan McDonald. When Dan's job is eliminated, the McDonalds move deep into the mountains in pursuit of logging work. Married less than two years and expecting their first child, the couple is thrust into a strange backwoods world for which Virgie is totally unprepared.
Selfishness and pride clash as Virgie and Dan try to turn their ramshackle house into a home. They soon learn that the mountains can be a dangerous place for outsiders, and a nightmare they never imagined becomes an appalling reality—one from which Virgie might never escape. Equal parts suspenseful and heartwarming, The House on Cadron Creek will keep readers on the edge of their seats from the first page until its dazzling conclusion.
The House on Cadron Creek is Carter's second book. Her first novel, The Quiet Road, was published by the Write Place in 2012. Carter is always on the lookout for new ideas, and she was first inspired to write Dan and Virgie's story while visiting her daughter in Arkansas.
"One day as my husband and I were on a small country road, we came up to a stop sign, and there was a large sign saying 'Cadron Creek,'" said Carter. "Names and words inspire me, so I wrote it down for future reference."
Soon, the story of a young couple living in a run-down house in the Ozarks during the 1930s began to take shape in Carter's mind. Aided by several years of careful research and encouragement from fans of The Quiet Road, Carter has written a book that she hopes readers will enjoy. "Besides hoping they find it a good read," said Carter, "I hope they will appreciate a little of the history in it, and most importantly, that the Gospel of Christ is clearly presented."
Carter is an Iowa native, raised on a farm four miles east of Bussey in southern Iowa. Along with her husband, Loren, Carter has three children, seven grandchildren, and three step-grandchildren. In addition to writing, Carter is interested in oil painting, furniture refinishing, gardening and leading Bible studies.