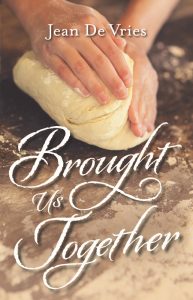 Just in time for the holiday season, Pella author Jean De Vries has published her second novel, Brought Us Together. The story marks the return of the Millers, an Amish family first introduced in De Vries' Bestow On Us Your Grace, winner of the Write Place's 2016 Book Contest.
It's been a few years since eldest daughter Amy's heart was broken by Lucas Beiler. Now she is certain she doesn't need a man in her life. She has her work at the family's market and baking lessons with her elderly friend and pastry extraordinaire, Ella. But she didn't count on Nathaniel Shetler—a newcomer to town who works at the market and seems to challenge Amy at every turn.
 "Amy is so independent and capable of taking care of herself, but she wants love—even if she won't admit it," said De Vries. "This is a story about learning to trust both God and someone else with your heart. After all, love is always worth the risk."
Readers of Bestow On Us Your Grace can look forward to catching up with familiar faces in Brought Us Together, including Amy's brothers, Silas and Caleb, and her sister-in-law, Kirsten. They'll also meet some new characters.
"Amy's friend and mentor, Ella, is based on my own grandmother—from her name to the beat-up cake pan she uses in their baking lessons," shared De Vries. "I had a very strong connection with my grandma, and I'm so glad to share a small piece of her in this story."
Brought Us Together was published through the Write Place and is available for purchase from De Vries. Interested readers can contact her at bjdevries01@hotmail.com or through her Facebook page, facebook.com/mizjeandevries.
Jean De Vries is a homemaker and busy mom. When she isn't writing, she is helping her husband, Brian, and their three children—Reagan, Maddie, and Hunter—stay on task and on schedule. She enjoys volunteering at her church, baking, singing, and reading.