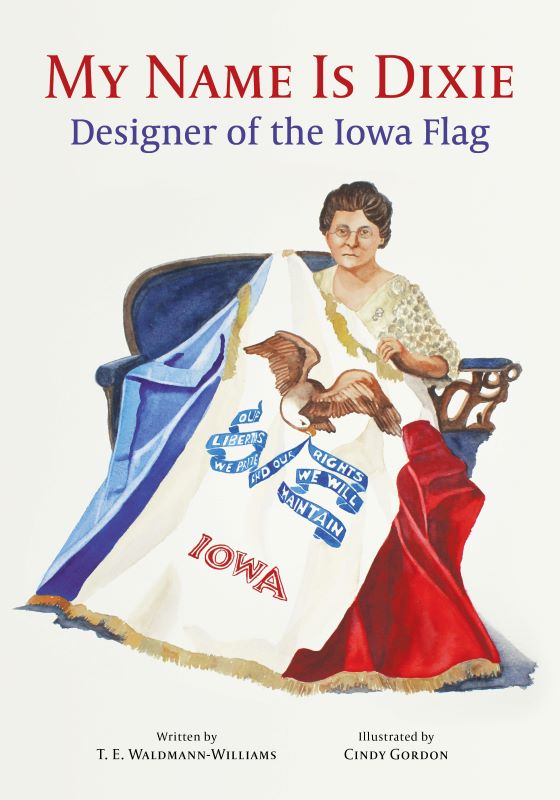 A new biography for middle schoolers hit the shelves this Women's History Month: My Name Is Dixie: Designer of the Iowa Flag, written by T. E. Waldmann-Williams, Ph.D., and illustrated by Cindy Gordon.
As the title suggests, the book chronicles the life of Dixie Cornell Gebhardt, the Knoxville native behind the design of Iowa's state flag. But the story doesn't begin with that well-known symbol.
Writing in Gebhardt's voice—and with exquisite attention to historical detail—Waldmann-Williams starts by taking readers back to Gebhardt's childhood in Knoxville, where she was the daughter of a Civil War veteran and one of seven children. The author recounts how Gebhardt found her calling in volunteer work as she grew up. She was president of Chapter M of the Philanthropic Education Organization (P.E.O.) and recording secretary of its Supreme Chapter. She also served as regent of the Iowa State Society of the Daughters of the American Revolution (ISDAR). In 1917, Gebhardt entered a flag design contest sponsored by the ISDAR. She won, but it would take four years (and a grassroots movement) to get the Iowa Legislature to officially adopt her design for the state flag.
"Dixie was a process engineer, a strategist, a historian, a genealogist, an educator, and a scrapbook artist. She even ran for Marion County recorder in 1918, before women had the right to vote in Iowa," said Waldmann-Williams, a former middle school teacher. "I have learned so much from her story, which is one reason I wanted to share it with the next generation."
Waldmann-Williams has lived in Knoxville for many years and is heavily involved in the local Rotary chapter (Rotary 6000 District), Rotary International, the Central Iowa Workforce Development Board, the National Association of Women Business Owners (NAWBO), and the Knoxville Chamber of Commerce. She first learned about Gebhardt from a presentation by the ISDAR at an Iowa Flag Day celebration.
"I saw the excitement everyone felt about the flag, but I couldn't find any books or learning materials about Dixie for a middle-grade audience," she explained. "That is how the idea for My Name Is Dixie came to be."
What followed was many months of painstaking historical research. Waldmann-Williams quickly discovered that there were several myths and conflicting stories about Gebhardt's life and the flag. So she went right to the source, pouring over Gebhardt's original letters and scrapbooks at the State Historical Society of Iowa in Des Moines. She also connected with Gebhardt's family, including her great-grandniece Nancy Johnston Toll, who was a wealth of knowledge and provided more original letters and journals.
"I also wanted to put illustrations in the book, so readers could also see who Dixie was. And I wanted to work with an Iowa artist," continued Waldmann-Williams.
Eventually, she connected with Cindy Gordon, a gifted watercolor artist from the Des Moines area. Using historical photographs and portraits as references, Gordon brought Gebhardt and her family to life on the page. On the front cover is a recreation of a famous portrait of Gebhardt with the flag, and young readers will be excited to see depictions of her at their age at different points in the book.
Readers will also find questions and places to journal throughout My Name Is Dixie. They are encouraged to find the answers to historical questions, as well as think about themselves, their family histories, and their goals.
"Middle school is the time when kids are building their self-esteem and thinking about what type of person they want to become," said Waldmann-Williams. "Dixie was an avid writer and kept journals, and I thought giving readers the space to journal would help them connect more to her story and to themselves."
Readers will have the opportunity to meet the author and illustrator and purchase a signed copy of My Name Is Dixie at the end of this month. On March 29, Waldmann-Williams and Gordon will host a book signing from 3:00 to 5:00 p.m. as part of the Iowa Flag Day celebration at the Knoxville Public Library. The book is also available for purchase online at Amazon and BarnesandNoble.com.
My Name Is Dixie was published by TWW Consulting LLC. The Write Place provided editorial, book layout, and distribution services. This is Waldmann-Williams' first book. She hopes to write a series of books for middle schoolers about famous Iowans like Carrie Chapman Catt, Laurence and Grace Jones, Ruth Suckow, and Jolly Della Pringle.
T. E. Waldmann-Williams, Ph.D., was raised in Council Bluffs, Iowa, and graduated from St. Albert High School. Her undergraduate degree is from the College of St. Mary in Omaha. She received her master's degree from the University of Nebraska and her doctorate from Union Institute and University. In addition to teaching, she worked for AT&T and established TWW Consulting LLC in 1998.