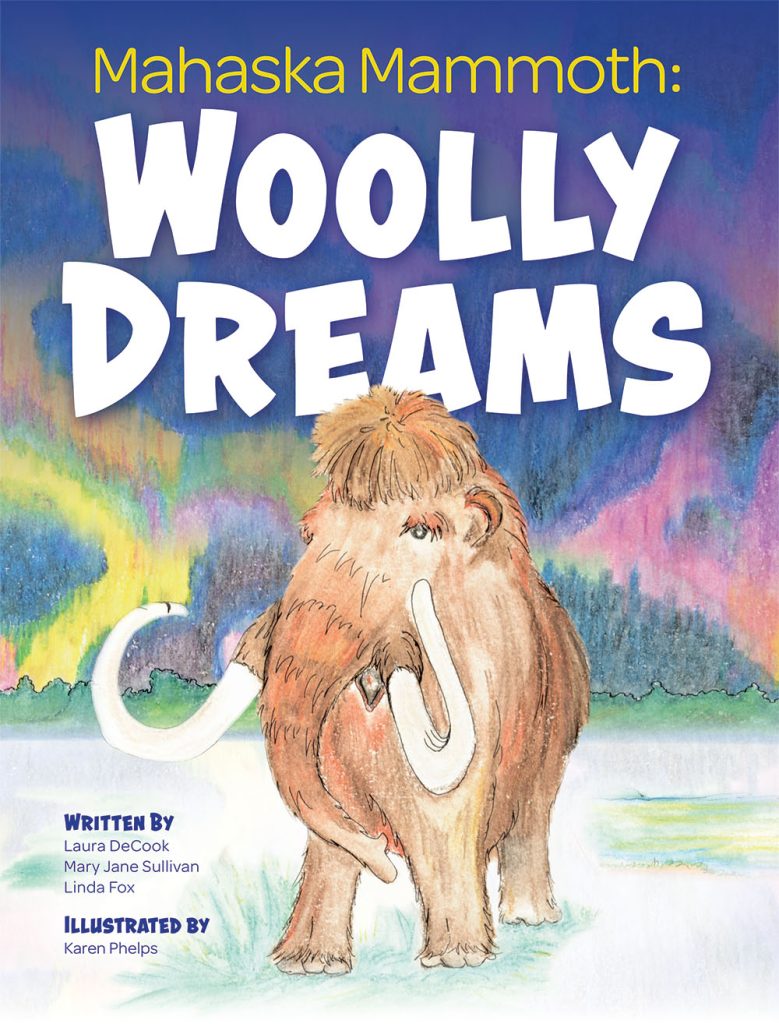 In 2010, a landowner in Mahaska County discovered the thirteen-thousand-year-old femur of a woolly mammoth lodged in the bank of a stream. The surprise find launched a massive dig that eventually uncovered bones from three different mammoths. Today, this groundbreaking discovery is being celebrated with Mahaska Mammoth: Woolly Dreams, the latest children's book published by the Write Place.
Woolly Dreams tells the story of Woolly, a little mammoth who dreams of becoming a brave explorer. One day, Woolly meets a stag moose calf named Murphy, and the two become best friends. Together, Woolly and Murphy go on an adventure and face the dangers of living during the Ice Age. The book was written by Laura DeCook, Linda Fox, and Mary Jane Sullivan—all are members of Friends of Mahaska County Conservation, the organization sponsoring the book. It was illustrated by Karen Phelps, a former naturalist and current Director of Benton County Conservation.
DeCook, a naturalist with the Mahaska County Conservation Board, was first inspired to write a children's book when she was digging for bones at the Mahaska County mammoth dig site. "I was thinking of ways to make the mammoth bones and digging experience educational for the public," she said. "I mentioned the idea of writing a children's book to Mary Jane Sullivan, a dig volunteer and retired elementary teacher, and she had the same idea. We knew we could make the book become a reality. Linda Fox joined us and brought in her creativity and experience as a children's librarian."
When DeCook, Fox and Sullivan were writing the manuscript for the book, they did a lot of research into what Iowa's landscape and ecosystem were like ten thousand years ago. They used knowledge from the dig site and information found online and in other scientific literature to build the bedrock of Woolly Dreams.
"We hope readers will enjoy this children's story, as well as the facts about woolly mammoths and what Iowa was like during the Ice Age, which are included throughout the book," said DeCook. "There are also photos and information about the mammoth dig site in Mahaska County."
In addition to opening a window into Iowa's prehistoric past, Woolly Dreams raises awareness about the Mahaska County Environmental Learning Center, which is currently under construction at Caldwell Park near Oskaloosa. The center is expected to open by the end of summer 2018. A life-size skeletal replica of a woolly mammoth will be on display, as well as other exhibits about woolly mammoths and nature in Iowa. To learn more, visit the Mahaska County Conservation Board website, www.mahaskaconservation.com.
All proceeds from Woolly Dreams go to the Friends of Mahaska County Conservation; they are used to help fund projects and educational programs at the Environmental Learning Center. Woolly Dreams is available for purchase online at Amazon and BarnesandNoble.com.