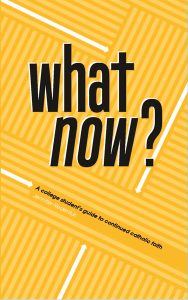 Young adults face a host of exciting and sometimes intimidating challenges when they leave home. For a Catholic college student, one of the biggest challenges is deciding how to live out their faith. Lake City, Iowa, author Jennifer Redenius explores this question in What Now?: A College Student's Guide to Continued Catholic Faith, the latest devotional published by the Write Place. Throughout the book, Redenius draws on her own experiences as a Catholic undergraduate at the University of Iowa to give college freshmen the tools they need to grow and thrive spiritually after they leave home.
Redenius was first inspired to write What Now? during her years at the University of Iowa when she realized how many of her peers were leaving the Catholic faith. She began seriously writing after moving to Lake City and becoming a Confraternity of Christian Doctrine (CCD) and confirmation teacher. "When a person leaves home, they are bombarded with new friends whom they want to spend time with, bills to pay, classes to study for, etc.," said Redenius. "I found that unless I made it a priority to continue my faith, everything else would take precedence. I wanted to help others realize that you can manage both 'adult life' and your faith, and that your faith will actually enhance your life once you leave home."
In What Now?, Redenius recalls her first week at college and shares the lessons she learned about growing in her faith as she transitioned into adulthood. At the close of each section, Redenius provides readers with a prayer and tips for continuing to build a relationship with God.
"I hope each reader finds practical, useful advice for how to continue their faith in the real world," said Redenius. "If I can get even one person to make a goal to continue their Catholic journey because of the book, I'd consider it a success."
Jennifer Redenius received her undergraduate degree from the University of Iowa and her master's degree from the University of Northern Iowa. She currently works as a secondary instructional coach for the Glidden-Ralston and Paton-Churdan school districts. Redenius is also an adjunct faculty instructor at Buena Vista University and Iowa Central Community College. She helps her husband, Dr. Jeff Redenius, run their fitness center and chiropractic clinic.
What Now?: A College Student's Guide to Continued Catholic Faith is Redenius' first book. It is available for purchase online at Amazon and BarnesandNoble.com.