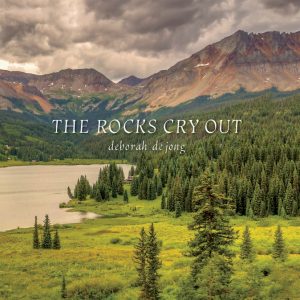 The Rocks Cry Out by Oskaloosa, Iowa, author and photographer Deborah DeJong is the latest book published by the Write Place. Readers will be enthralled by this beautiful coffee table devotional of landscape photography, which pairs 28 vibrant images with accompanying Biblical verses and reflections. From the beauty of a meadow in the heartland to the majesty of a towering mountain range in the west; from the stillness of a quiet pond to the cacophony of a roaring waterfall, The Rocks Cry Out brings the beauty of God's creation and the wisdom of Biblical lessons together in one inspiring book.
DeJong's inspiration for The Rocks Cry Out has its roots in her church's community photography club, which she founded in 2011. "It was important for me to incorporate photography lessons and Christian devotionals into each meeting; however, it was difficult for me to find a resource that fit both needs," said DeJong. Encouraged by her friends and her faith, DeJong decided to use her gift for landscape photography to create her own devotional book.
"I found inspiration in nature, in song, in Scripture, from sermons at church, and from conversations with others," said DeJong. "The ideas began to pour in, and soon I began to write. I found myself digging into Scripture and discovering things that I'd only breezed over before." In less than six months, DeJong's devotional blossomed into a 28-chapter book filled with wisdom taken from nature.
"I hope that readers begin to look at the world around them a little differently after reading my book," said DeJong. "I hope that they gain insight into ways they can live a fuller life by learning lessons from God's creation." The Rocks Cry Out is the first in a series of photography devotional books. In the future, DeJong plans to write a new devotional that will explore who God is in each book of the Bible.
Deborah DeJong was born in 1960 and has lived in rural Iowa all her life. Raised in a Christian home, she has followed Christ since early childhood. In 1981, she graduated from William Penn College in Oskaloosa, Iowa, with a bachelor of arts degree in education. She obtained a master's degree in education from Viterbo University in LaCrosse, Wisconsin, in 2006. DeJong has been a middle school teacher since 1991. She specializes in the art of landscape photography, but does not limit herself to that type of photography. She has also developed a small portrait photography clientele and frequently takes family, senior and wedding portraits. DeJong has been married to her husband Dave since 1979 and has two children and three grandchildren.
The Rocks Cry Out can be purchased at Amazon and BarnesandNoble.com.