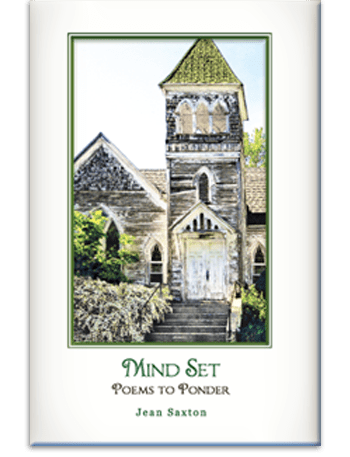 Oskaloosa, Iowa, resident Jean Saxton's second book of poems, Mind Set, expands upon her first poetry collection to express more of her thoughts on nature, antiques, everyday life, and more. Mind Set is her second poetry collection and third book published with the Write Place. It is available at the Book Vault in Oskaloosa.
Jean Saxton has always loved writing, but she didn't turn seriously to poetry until she received a surprising gift from a friend—a book of haikus. Though Jean's three-lined poems aren't traditional haikus, they provide the perfect form to encapsulate her thoughts on everyday life and the world around her. "I hope readers are inspired to find a reason to be thankful, to take action, to smile―or even laugh," said Saxton. "Each poem is meant to be read not just once, but slowly and repeatedly."
Saxton was born and raised in Ida Grove, Iowa, but lived in five states throughout her fifty-four-year marriage to Norval Saxton (Sax). Now widowed, she spends her time writing, antiquing and decorating her retirement home in Oskaloosa that she shares with her rescue dog Sophie, as well as visiting with her friends, her daughter Amy, son Andrew, and her grandchildren. She continues to write poetry and hopes to publish another poetry book later this year.