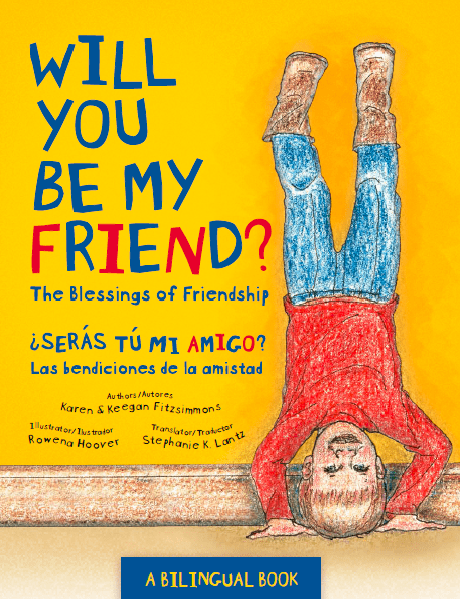 In her latest children's book—Will You Be My Friend?/Serás tú mi amigo?—Pella author Karen Fitzsimmons has a simple message: While it feels good to have a friend, it feels great to be a friend.
"I wanted to get across to young readers what being a true friend is all about," she said. "So my son and I wrote a story where boys and girls show how to play together—how to treat each other with respect and share the love of Jesus."
This is Fitzsimmons' third children's book published with the Write Place. But this time, she worked with a co-author: her son, Keegan, a recent graduate of Trinity Christian College in Palos Heights, Illinois. To round out the team, mother and son called on two other Pella residents: Rowena Hoover to illustrate and Stephanie K. Lantz to translate the book into Spanish.
"I was talking to an elementary school principal about one of my other books, and she told me that a local Spanish-speaking family was looking for English/Spanish books to read together," Fitzsimmons recalled. "I wanted to help fill that need, so I decided that my next book would be bilingual."
Fitzsimmons then entered the book in the Write Place's 2018 Book Contest, in which it was named a finalist. Will You Be My Friend?/Serás tú mi amigo? is now available for purchase online at Amazon and BarnesandNoble.com.
Karen Fitzsimmons is a graduate of Central College and has worked as a teacher and a photographer. She is also the author of The Secret of Happiness and The Joy of Forgiveness.