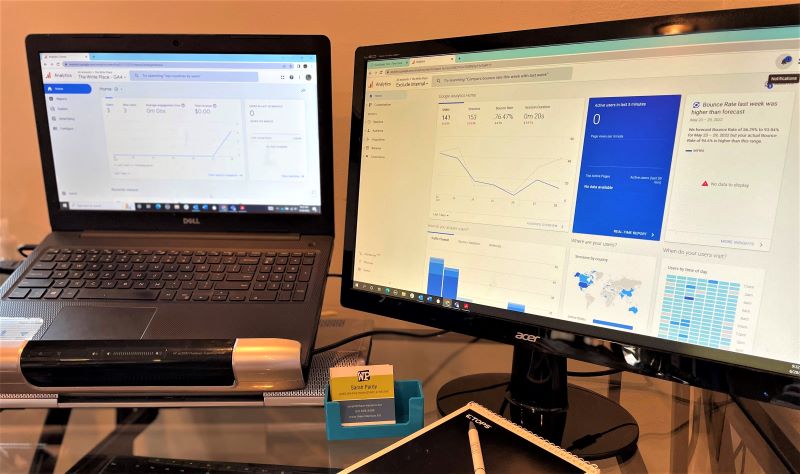 by Sarah Purdy, WP editor and online content specialist, and Vera Snodgrass, WP writing intern
For years, businesses and marketing professionals have used Google's Universal Analytics platform to collect valuable website data, like how many sessions (or "visits") they've had and how well their online marketing campaigns are performing. Universal Analytics is a gold mine, often serving as the cornerstone for online marketing strategies.
But as with all things Google, a change is on the horizon. Its name? Google Analytics 4.
Google Analytics 4 (GA4) was first introduced in 2019. On March 16 of this year, Google announced that they would officially sunset Universal Analytics in 2023 in favor of GA4. The Universal Analytics platform will cease to process new hits next July.
As an agency that uses Universal Analytics, the Write Place has investigated just what this latest development means for our clients' website data collection.
How will Google Analytics 4 differ from Universal Analytics?
Universal Analytics draws data from third-party cookies, a type of tracking code that allows advertisers to collect user data, like what websites they visit, what they buy, and what their interests are based on their online search behavior. This data then allows advertisers to serve ads to customers who will likely be interested in their products or services.
But this method of collecting data is becoming obsolete, as many users are demanding greater online privacy. In 2020, Google announced plans to entirely phase out third-party cookies on Chrome browsers by 2022. Firefox and Safari eliminated them all the way back in 2013.
That brings us to the biggest difference between GA4 and Universal Analytics. In the March announcement, Russel Ketchum, director of product management for Google Analytics, said, "Google Analytics 4 … does not rely exclusively on cookies and uses an event-based data model to deliver user-centric measurement."
In other words, GA4 ushers in a new way of thinking about data.
Event-based data collection logs every interaction a user has on a website. It creates a journey map for a user's time on the site, even if the user jumps from desktop to mobile, to an app and back to the web. With this model, you will be able to easily see:
Which pages are getting the most engagement (clicks, scrolls, file downloads, etc.)
How users are moving through your site
Where your users are coming from (organic search, paid search, social media, etc.)
And more
To uphold internet privacy laws, GA4 will not catalog and store users' IP addresses.
Overall, Google Analytics 4 is a much more flexible program than Universal Analytics. It tracks user paths with greater accuracy and integrates well with other Google properties, like Google Ads. It also enriches your dataset with machine learning, offering predictive AI insights that fill in the gaps when data is missing because of disabled cookies.
What should my business do next?
Data from Universal Analytics will remain available for six months after collection stops. The kicker? Because they collect data in different ways, there is no path to push historical data collected with Universal Analytics into GA4. So, if you want to compare year-over-year or month-over-month data, the time to set up your GA4 property is now.
Setup is easy; the platforms don't interfere with one another and can collect data side by side. Then, when Universal Analytics rides off into the sunset, you will have valuable historical data built up in GA4.
If you need help navigating this transition, the Write Place team is here for you! Call 641-628-8398 or email hello@thewriteplace.biz.
---
Sources: