In recent months, the Write Place has welcomed two new people to our team.
In March, Krista Van Gelder began training with our former bookkeeper Gail Van Beek, who is now working fulltime for Pella Christian High School. Krista assumed all bookkeeping responsibilities this month. Write Place customers who receive electronic invoices should have received them from Krista's email address, krista@thewriteplace.biz, in May.
"I'm enjoying getting to know my co-workers and the many aspects of my position at the Write Place," said Van Gelder. "I love bookkeeping and finances, so it's fun for me to learn a new company and a new way of doing things."
Krista lives in Pella with her husband and nine-year-old son. She also has two daughters—one is married and recently moved back to the area after living in the state of Washington, and one is a junior in college. Outside of work, she enjoys scrapbooking, reading, volunteering and spending time with her family. She also enjoys baking when she has the time—which isn't often.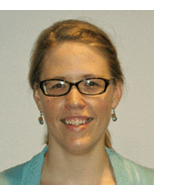 More recently, Michelle Stam took over our part-time graphic design role, which was temporarily filled by retired Write Place employee Kathie Evenhouse. Michelle is working on digital and print design jobs for both business clients and authors.
A 2012 graduate of Dordt College, Michelle completed an internship with a textbook publishing company before joining the Write Place. "I love that the Write Place uses its design and publishing services to help individuals and small businesses fulfill their dreams and goals, and I am excited to work with a company that has the same desire to serve others creatively that I have," said Michelle.
"We are excited to add both Krista and Michelle to our team," said Alexis Thomas, business manager. "Krista's wide range of experience, business sense and positive attitude are already helping her fit right in. Michelle's fresh perspective and ability to adapt to the changing industry are taking our design services to the next level."
The Write Place provides professional writing, graphic design, content marketing and project management services to authors and businesses. Learn more about their services at www.thewriteplace.biz, give them a call at 641-628-8398 or drop by their downtown Pella headquarters at 709 Main Street, Suite 2. The Write Place also serves clients from an office in Cedar Falls, Iowa.
Both Michelle and Krista are working at the Write Place's headquarters in Pella, Iowa.