Get Up, Get Going: Tales of a Country Veterinarian by Dr. A.J. Neumann, D.V.M., and Renae B. Vander Schaaf is a treasure almost 93 years in the making.
The captivating memoir—and winner of the 2018 Write Place Book Contest—chronicles the life of "Doc" Neumann from his birth in the downstairs bedroom of his family's farmhouse in 1926, through his Depression-era childhood and WWII service, to his decades-long veterinary career dedicated to the farm families of Northwest Iowa. Along the way, Doc Neumann has gathered a collection of lessons and stories—some are heart-wrenching, many are heartwarming. In Get Up, Get Going, he and co-author Renae B. Vander Schaaf share his favorites, including the most important lesson of all: "There's no such thing as luck. God's plan is already in place."
For years, Vander Schaaf—an independent writer, columnist, and published author from Alton, Iowa—heard stories about the local veterinarian and famed draft horse expert.
"My husband and I would often travel to Amish country or attend horse events, which I wrote about for agriculture papers," said Vander Schaaf. "When someone found out we were from around Orange City, they would ask, 'Do you know Doc Neumann?' I didn't, but my husband did—Doc Neumann was his family's veterinarian when he was growing up."
In 2016, Vander Schaaf finally met Dr. Neumann in person over coffee and agreed to start writing down his story. Over the next year, they spent hours at a time sitting at Dr. Neumann's kitchen table, talking about his childhood escapades, his most memorable cases, how he met his wife, Mary Virginia, and much more. He told stories while she typed, and soon they had a full-fledged book on their hands.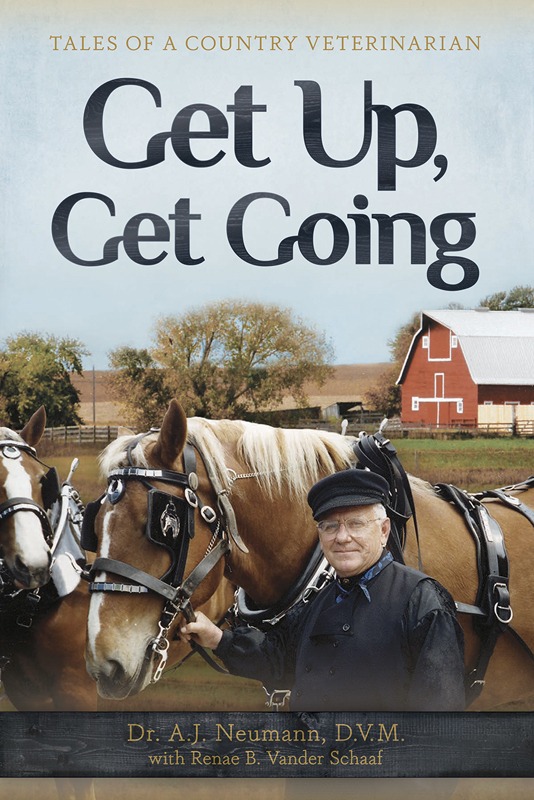 They both knew they wanted to publish Get Up, Get Going, but the question was how. Then in December 2017, Vander Schaaf learned of the Write Place Book Contest—a biannual competition that provides aspiring authors a chance to win free publication. She decided to enter Get Up, Get Going … just before the contest deadline and without telling Dr. Neumann. When the book won, it came as a wonderful surprise to both authors.
"I never thought anyone would care to read about me and my experiences," said Dr. Neumann. "But Mrs. Vander Schaaf and I have captured the spirit of my story in Get Up, Get Going."
Vander Schaaf added, "The next time I am asked, 'Do you know Doc Neumann?', I'll be able to answer, 'Yes, indeed. He is an amazing gentleman.'"
Get Up, Get Going is available for purchase online at Amazon and BarnesandNoble.com. An e-book version will be available soon.