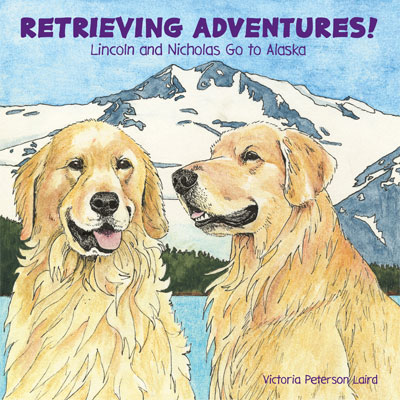 Retrieving Adventures! Lincoln and Nicholas Go to Alaska by Oskaloosa, Iowa, author Victoria Peterson Laird is the latest children's book published by the Write Place. This charming story follows two golden retriever brothers on a convertible ride to the airport, then onto a plane bound for Alaska, where they encounter an angry grizzly bear, take a cruise, watch the aurora borealis over Denali National Park, and more.
Full-page watercolor artwork, also by Laird, depicts the dogs' discovery of the dangers and beauties of the Alaskan wilderness. Fulfilling a lifelong dream, Laird visited Alaska in 2010, which inspired the setting of the book—the illustrations are based on photos she took on her trip. "I enjoy painting places and animals I find beautiful, and Alaska is an incredibly scenic place with such diverse wildlife," said Laird. "Lake Keomah in Iowa is also featured on the last illustration of the book, as we have beauty here as well."
The characters, whose lovable personalities spring to life on the page, are based on two real golden retrievers owned by the author. Both are TDI certified therapy dogs and visit hospitals and nursing homes weekly. Retrieving Adventures! Lincoln and Nicholas Go to Alaska is the first in a series of books to feature the two dogs. "In 2016, they will take a trip to Africa, again chosen for the beauty and diversity of wildlife there," said Laird. "A friend of mine, Bob Barnes, has graciously granted me permission to use his African photography to base my illustrations on. In the years to come, I hope to have the brothers visit Australia and the Great Barrier Reef, the rain forest, Scandinavia, and many more places."
Victoria Peterson Laird has a bachelor's degree in art from West Liberty State University, with a minor in journalism. She has sold portrait art since 1971 and taught art most of her life. Since January 1992, she has taught at William Penn University. She has previously written and illustrated children's books for her own children and illustrated children's books for author Dr. Nancy Frakes in the 1990s. A natural foods cookbook she wrote and illustrated, America's Favorites, Naturally, was published by Melius and Peterson Publishing in 1986.
Retrieving Adventures! can be purchased from the author's website, petersonlaird.com/books.