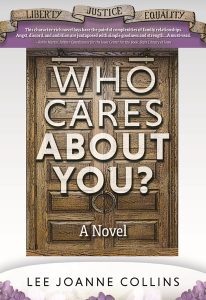 Who Cares About You? by Lee Joanne Collins of Pella, Iowa, is the latest novel published by the Write Place. Set in Bettington, Wisconsin, Collins's book explores the effects a reported case of child neglect has on the small community.
Maylynn Jones is a young mother of two struggling to make ends meet after the father of her sons, long-distance truck driver Frank Benedict, goes missing again. After noticing the lack of food and broken refrigerator in the Jones apartment, Maylynn's well-meaning teenage babysitter calls Channel Six in hopes that the station's hotline will help the family. Instead, an ambitious reporter turns the call into a sensational story of child neglect, and the Department of Children and Families removes the boys from Maylynn's custody until a judge can rule on the case. As the media circus grows, those closest to the trial begin to question everything they know about love and family ties. As old doubts, hurts, and insecurities rise to the surface, each person touched by the Jones case must ask: who cares about me?
Collins was first inspired to write Who Cares About You? at a meeting of the Marion County Writers' Workshop, where she received two seemingly unconnected writing prompts that sparked her imagination: "What did the babysitter find that surprised her?" and "Tell about an argument with mother."
"I started telling Angie's [the babysitter's] story. Then I decided it was really her mother Suzanne's story," said Collins. "After writing the whole novel and seeing each of the characters grow, I changed my mind once again and decided to focus on Maylynn's fight to defend her right to raise her two boys."
The result is a character-rich novel that explores the complex and enduring bonds of family and friendship. "I would like readers to see how easy it is to misunderstand the motives of the people around us," said Collins. "And, of course, I also want them to consider the many possible answers to the title question, since there are often more people who really care about us than we suspect."
Lee Collins retired from teaching in 1997, finishing her career at Pella's Central College after teaching in seven different states. She began writing fiction in 2009 after a week at the University of Iowa Summer Writing Festival. She has published several short stories, and her first novel, Too Much Left Unsaid, was published by the Write Place in 2013. One of the characters from that story grew up to take on a role in Who Cares About You? Both novels are available for purchase online at Amazon and BarnesandNoble.com. Collins will sign copies of Who Cares About You? on May 13 from 2:00-4:00 p.m. at Second Reformed Church in Pella. Copies of the book will be available for purchase at the event.