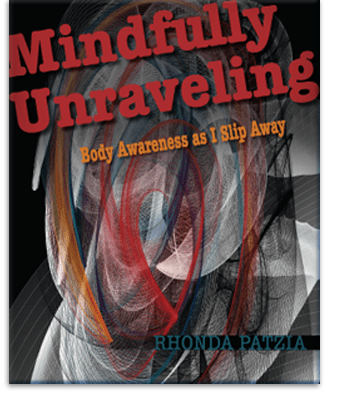 Mindfully Unraveling: Body Awareness as I Slip Away testifies to author Rhonda Patzia's efforts at body awareness. The book explores Patzia's kinship with women as she reconnects with her vocation as a photographer after she was diagnosed with multiple sclerosis. Published by the Write Place in Pella, Iowa, this memoir is a collection of journal entries, dream analysis and reflections on other authors. It expresses not only Patzia's experience with disease, but also how many identities coexist in a woman's powerful body.
Based on the photography and writing Patzia did while completing her MA at Goddard College, the book is intended to help people with multiple sclerosis and other diseases cope with their own body changes. On Wednesday, January 22, 2014, one week after Rhonda held the first copy of Mindfully Unraveling in her hands, she passed away.
Born in Klamath Falls, Oregon, and raised in Fort Collins and Redstone, Colorado, Patzia married Michael Patzia in 1994. They lived in Nashville, Tennessee, for six years where Rhonda printed for a well-known photographer and started her own photography business. Several of her photographs were published over the years, most notably in The Sun magazine.
Patzia was diagnosed with multiple sclerosis in 1996. After living in Nashville, the Patzias moved to Nicaragua for two years and then settled in Pella, Iowa. In 2005, she gave birth to a son, Marco.
Jim Autry, poet, author, lecturer and former Fortune 500 publishing executive at Meredith Corporation, says, "In Rhonda Patzia's beautifully written memoir, she holds nothing back. It is a vivid, intense and very courageous journey of self-discovery and revelation in which we experience with her the painful process of making peace with her body. I highly recommend this book; there are lessons in awareness here for all of us, male or female, healthy or sick, able or disabled."
Caryn Mirriam-Goldberg, poet laureate of Kansas, 2009-2011, describes Mindfully Unraveling as "brave, soulful, daring and beautiful." She continues, "Her love for living with great embodiment, awareness and art shines through every passage and each photograph. Her insight, humor, courage and wisdom make all the writing in this book enduringly essential to anyone with a body."
To purchase copies of Mindfully Unraveling: Body Awareness as I Slip Away, click here  or call 641-628-8398.