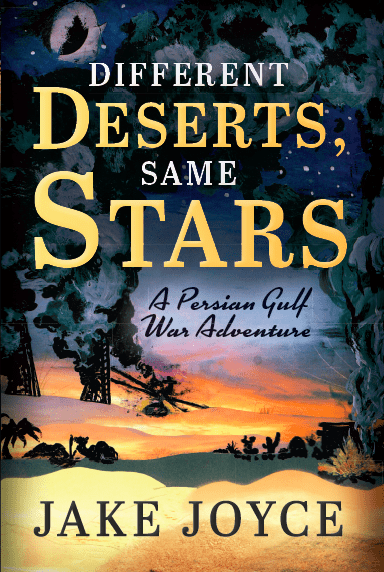 In 2015, the Write Place published Different Deserts, Same Stars by Jake Joyce—a thrilling military adventure that takes place during Operation Desert Storm—as an e-book. Now, the story is being re-released in a printed edition.
"There are still a lot of people out there who just prefer a good, old-fashioned paper book!" explained Joyce of his decision to publish in print.
Different Deserts, Same Stars tells the story of a Native American army reservist named Young One who is called up for active duty in the first Persian Gulf War. Under the backdrop of burning oil wells in war-torn Kuwait, when all modern technology fails, Young One must rely on his ancient survival skills to evade Iraqi capture and escape back to coalition lines.
"I wanted to write about the first Persian Gulf War because it is such an unexplored period of history in fiction," said Joyce. "Then, as I was writing, another theme emerged: the conflict between the old and the new. Young One enlists to learn about the latest technology and bring that knowledge back to his reservation. But modern technology fails him in the theater of war, and he ends up having to rely on the ancient skills he learned from his grandfather in order to survive."
Print and e-book versions of Different Deserts, Same Stars are available for purchase on Amazon and BarnesandNoble.com.
Jerome (Jake) Joyce, Ph.D., is a former Green Beret sergeant. He is also an honorably retired commissioned officer from the U.S. Public Health Service with the rank of commander. He currently resides in Kansas City with his wife, Wendy. Different Deserts, Same Stars is his first novel.