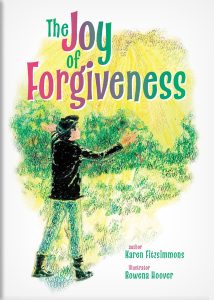 The Joy of Forgiveness, written by Karen Fitzsimmons and illustrated by Rowena Hoover, is the latest juvenile fiction book published by the Write Place.
It tells the story of Angel and Trouble, two teenagers who become best friends in spite of being as different as their names suggest. But when Angel makes the ultimate sacrifice for Trouble, his life—and the lives of everyone who loves Angel—will never be the same.
"This is a story about the power of letting go of past mistakes and forgiving those who have wronged us," said Fitzsimmons. "Forgiveness brings freedom. I hope readers learn, as Trouble does, that anything is possible when we follow Jesus' example of love and forgiveness."
Karen Fitzsimmons is a graduate of Central College and has worked as a teacher and a photographer. The Joy of Forgiveness is her second book with the Write Place. Her first book, The Secret of Happiness, was published in April 2017.
The Joy of Forgiveness is available for purchase online at Amazon and BarnesandNoble.com.