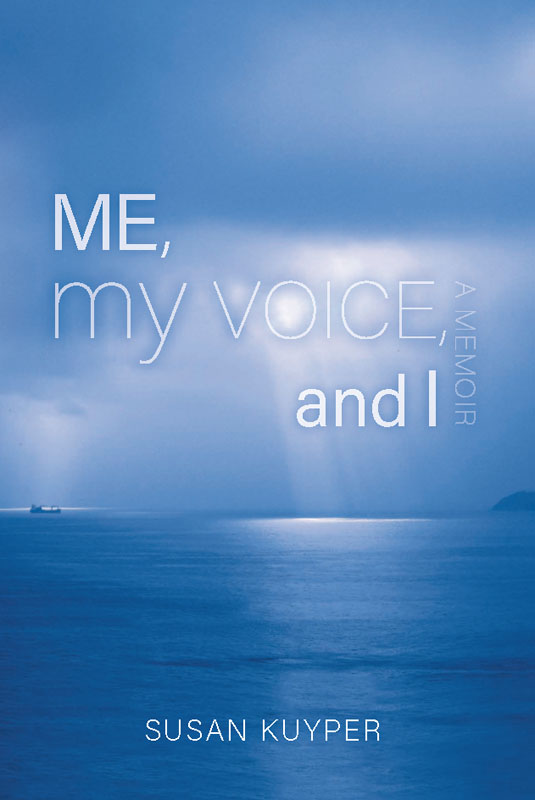 Pella native Susan Kuyper loves to explore. After a childhood spent biking the streets of the small Iowa town, she went on to teach in Hong Kong, hike the mountains of Japan and Tibet, raise two sons, survive several near-death experiences and—eventually—move back to the Heartland. A common thread has run through all these adventures: The Voice, an inner companion that whispered snarky wisdom to Kuyper as she navigated growing up, motherhood, survival, and the meaning of life.
Today, readers can experience Kuyper's journeys—and the wisdom of The Voice—firsthand in her memoir Me, My Voice, and I. Originally written as a letter to her sons, the book is filled with warm and descriptive prose that leads readers to ponder and listen for their own quiet, everyday wisdom.
"We all live with a Greek chorus in our heads—voices that natter at us throughout the day. I have those, and then I have The Voice, who makes declarations that surprise, annoy, and inspire me," said Kuyper. "I started this book by simply telling of my experiences around the world, but as I wrote The Voice insisted on being a main character, taking me on a completely new internal journey. Now I encourage others to listen to their inner Voice and share their own stories."
Susan Kuyper has been a piano teacher, bookkeeper, ESL teacher, university bookstore manager, and high school choir director. She grew up in Pella, studied in Arizona, and worked in Oregon. She lived, worked, and raised two sons in Japan, Singapore, Australia, and Hong Kong before returning to Iowa with her many memories. Susan presently runs Kuyper Academy of Music. Me, My Voice, and I is her first book. It was published through the Write Place and is available for purchase from Amazon and BarnesandNoble.com.