T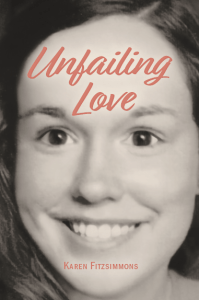 his winter, Pella author Karen Fitzsimmons is celebrating the publication of her eighth book and first novel, Unfailing Love.
Based on a true story, Unfailing Love centers on Kalena, a small-town Iowa girl born in the early sixties. The book chronicles Kalena's life from childhood to the present day, as she faces bullies, bad relationships, a broken heart and the deaths of loved ones. Through it all, Kalena relies on her faith in God and finds an inner strength she never knew she had, as well as a spirit of forgiveness.
"My goal is to show others it is never too late to say you're sorry and forgive," said Fitzsimmons. "Our Heavenly Father forgave us, and we must do the same. Our eternity is relying on it."
Unfailing Love was published through the Write Place. It is available for online purchase from Amazon and BarnesandNoble.com.
Karen Fitzsimmons was inspired to become an author by her creativity and love for Jesus. She has written many books, including Listen My Children, Perfect Love Casts Out Fear, Angel Meets Trouble, The Secret of Happiness, The Joy of Forgiveness, Will You Be My Friend?/¿Serás tú mi amigo?, Don't Look Back, We Need You Jesus!, and now Unfailing Love.