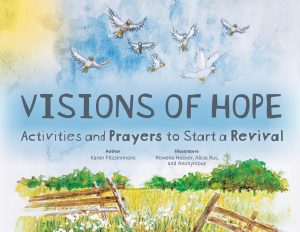 Looking for ways to have fun and help others this summer? Visions of Hope: Activities and Prayers to Start a Revival by Pella author Karen Fitzsimmons is a Christian activity book that children and adults can complete together.
In its pages, readers will find activities they can work on at school, at church, at a hospital or nursing home, and in their community. Some examples include buying someone a meal, making cards, writing encouraging notes, and giving compliments. There are also suggested prayers, as well as places for readers to journal about their activities or write their own prayers.
For Fitzsimmons, Visions of Hope is a labor of love seven years in the making. It features illustrations by her longtime friend and collaborator, Rowena Hoover, as well as additional artwork by student artists and photography by Jodi Kaldenberg-Rau.
"As I thought about what activities to include, I focused on ones that would be a positive outlet for a child's energy," said Fitzsimmons. "The goal of each activity is to show someone, through an act of kindness or prayer, that they have value and purpose. With God's help, it is my hope that my readers' actions will start a revival, spreading hope and love in their towns."
Visions of Hope: Activities and Prayers to Start a Revival was published through the Write Place. It is available for purchase from Amazon, BarnesandNoble.com, and Pella Books.
Karen Fitzsimmons is an art teacher and is completing her master's degree in school counseling and art therapy. Aside from Visions of Hope, she is the author of Listen My Children, Perfect Love Casts Out Fear, Angel Meets Trouble, The Secret of Happiness, The Joy of Forgiveness, Will You Be My Friend?/Serás tú mi amigo?, Don't Look Back, We Need You Jesus!, and Unfailing Love. Fitzsimmons was inspired to become an author by her creativity and love for Jesus.