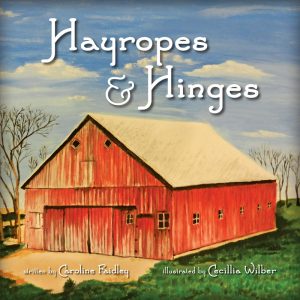 Many years ago, Iowa poet Caroline Faidley put pen to paper and wrote a tribute to early twentieth-century farm life in Iowa. More specifically, Faidley, who turned 92 in July, wrote a poem that captured the liveliness and magic of the place she has always considered to be the very heart of the farm: the barn. This winter, her poem has grown into Hayropes & Hinges, the latest children's book published by the Write Place.
Written by Faidley and illustrated by Cecillia Wilber, Hayropes & Hinges paints a vivid portrait of the inner workings of an old-fashioned Iowa barn. Flies buzz, roosters crow and perch, horses munch hay, and the faithful farmer milks his cows with help from his loyal dog, Rover. Most importantly of all, the old red barn itself provides shelter as it quietly watches over the comings and goings of the farmyard, an image that Faidley drew from her own memories of living and working on an Iowa farm.
"The barn was almost a part of the family," she said.
Faidley hopes that, through the pages of her book, readers will experience the magic of the barn for themselves and keep its memory alive in their hearts forever.
Caroline Faidley was born in 1924. She grew up on an Iowa farm and was an excellent student and a gifted sharpshooter. After graduating from high school, she married Wayne Faidley. This is her first book.
Hayropes & Hinges is available for purchase at Amazon and BarnesandNoble.com.